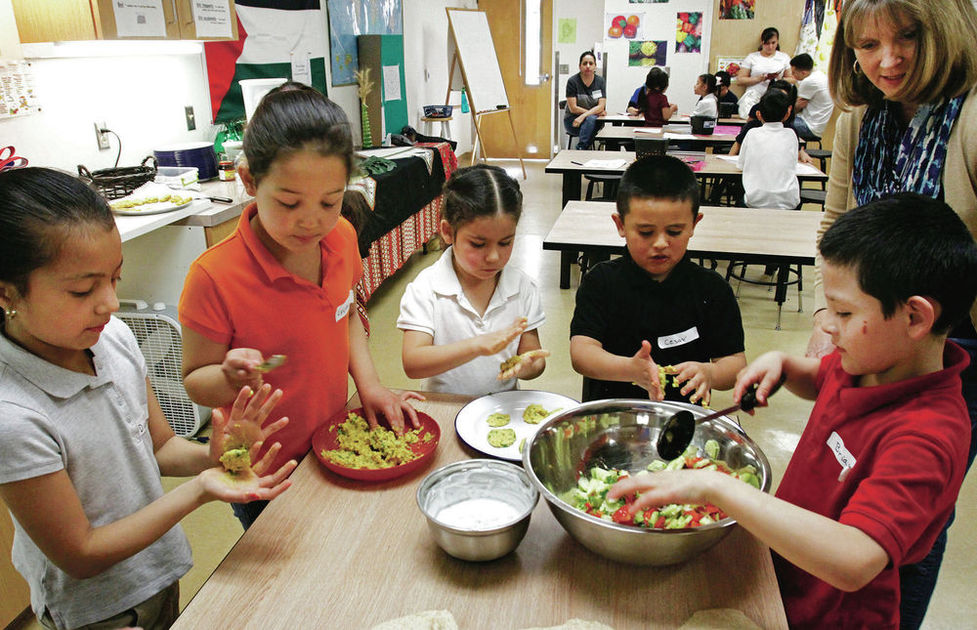 Cooking in the Early Childhood Classroom – by Al Stewart
Posted on
December 7, 2017
"Of all the learning experiences a teacher might plan for young children, none is more versatile than preparing food in the classroom." (Using Literature with Young Children by Betty Coody) Children enjoy cooking. Cooking activities cross all learning domains identified in state standards as well as the curricula used in many early childhood settings. There are many children's books that lead to cooking experiences; one can plan a different cooking activity each week of the school year.
As a kindergarten and Head Start teacher, my experiences with cooking in the classroom were positive. Cooking activities were planned for Fridays. Now, cooking does not necessarily mean using heat. Several activities, such as making Tang, are possible because they do not require a source of heat. This requires only a jar of Tang, a pitcher of water, a cup for each child, and plastic spoons. Spreading peanut butter on celery sticks is another example of no heat source needed. Make a rebus chart so that the children can sit at the table and follow the "directions". This addresses print richness while also enabling the children to "read" the recipes with minimal assistance from an adult.
Creating a "plan for cooking" for each semester was an important step in this process. Reviewing the units (themes) for the fall and spring semesters helped decide what cooking activities the children would experience. An overall budget was established including petty cash approval by the principal. It was also possible to invite parents to participate by contributing certain items for cooking. When we studied the basic food groups, we made Stone Soup. The children were asked to bring certain vegetables from home, such as one potato, one onion, one bunch of celery, a couple of carrots, etc. [NOTE: I provided the stone. It is critical that you confirm the suitability of the stone; one way is to boil the stone for a couple of hours at home before taking it to the classroom. One teacher used a sedimentary stone and did not pre-cook it prior to putting it in the soup. It disintegrated and they had very gritty soup.] Several of the rebus charts were made prior to the week they were to be used. This is a time saving strategy. If you are in a school setting, it is necessary to speak with the cafeteria cooks to find out when it might be possible to use the kitchen. I was fortunate to work at a couple of schools with cooperative cooks. That was a bonus.
All aspects of the domains are addressed. The vocabulary used when cooking expands the children's language.  We cut, chop, stir, mix, grate, roll, mash, peel, pour, spread, and eat. Describing the taste is another example of vocabulary building. The food was spicy, savory, creamy, scrumptious, delicious, or fruity. Social studies concepts are gained as the children plan, organize, and work together to complete the cooking task. Certain recipes may reflect traditions of cultures. Cooking experiences are rich in science and math. Opportunities for counting, measuring, estimating, adding, dividing are possible. Discuss the changes that take place when cooking using heat. Children can compare the texture of a raw carrot to one that has been steamed or sautéed, and describe the differences. The form of the food changes as it is exposed to heat and then cooling. Another example is examining the changes in gelatin as a powder, as a liquid, and then as a solid.
Cooking experiences are truly multi-sensory activities for children. The opportunity to have rich discussions related to the senses of sound, smell, touch, taste, and sight can be invaluable for the children. Making popcorn is an example when the popper is placed somewhere in the room out of sight of the children. They will hear the popcorn first, then smell it, see it, touch it, and, finally, taste it. WOW!!!
Presentation plays a big role in dining experiences. This may apply to children as well. One year, we decided to prepare green eggs and ham. This was related to Dr. Seuss' book "Green Eggs and Ham". Well, let me tell you; that did not go over very well. Adding green food coloring to eggs does not appeal to four- and five-year olds. Many of them would not even try it. The taste is fine; but the appearance is not pleasing to the eye. Once was enough.
Here is an outline for planning and executing a classroom cooking experience. NOTE: All cooking experiences should be supervised by an adult.
Choose a book that will support a cooking experience.
Create a rebus chart.
Purchase (or obtain from parents) all ingredients.
Review the chart with the children.
Assign specific responsibilities of the cooking experience to each child. Be sure to include clean up as a step.
Be sure each child washes his/her hands prior to beginning their step in the recipe.
Follow all steps in the recipe.
Prepare the "dish".
Serve the dish.
Enjoy.
Clean up.
Review.
Here are a couple of suggestions for books to read, with a related recipe to prepare:
The Gingerbread Man – Gingerbread Men
Rain Makes Applesauce – Applesauce
Henny Penny – Chicken Mix (Trail Mix)
Stone Soup – Vegetable Soup
The Carrot Seed – Steamed and Raw Carrots
Bread and Jam for Frances – Blueberry or Blackberry Jam
Have fun with the children with cooking activities, but never compromise when it comes to health and safety. Enjoy and allow the children to realize that they are chefs. If they cook it, they will eat it!
Resources for cooking in the classroom
"Book Cooks" by Cheryl Apgar
"Book Cooks" by Creative Teaching Press
"Look 'n' Cook" by The Mailbox
"Animal Snacks" by Kathleen Cubley
"The Cooking Book" by Laura J. Colker
"Pretend Soup" by Mollie Katzen and Ann Henderson
"Using Literature with Young Children" by Betty Coody
"Cup Cooking" by Barbara Johnson and Betty Plemons
"Alphabet Recipes for Snacktime" by Tracy Jarboe and Stefani Sadler