Date/Time:
Date(s) - 11/07/2019
9:30 am - 10:30 am
Location:
Clinton Middle School Auditorium
1001 Orient Ave, Clinton, OK 73601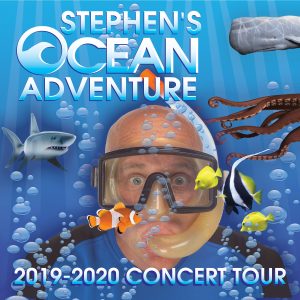 This Stephen Fite concert will have your children dancing and singing as he leads them on an informational trip above and below the waves. During our tour of the deep, blue seas we'll learn how waves are created, what the ocean does for the water cycle, how fish breathe and more. We may even go on a Shark Hunt so be prepared for some F-U-N, FUN!
Stephen's Field Trip Concerts have become an annual event
and are respected not only for their engagement, energy and music, but also for the educational concepts contained within the show. They have been described as an "interactive celebration of music and learning" and seek to make children active participants throughout the entire hour-long presentation. We hope that you will make plans now to join Stephen for next year's tour.
Reserve your seats today so you can say, "I had a gnarly time with Stephen Fite!"
Additional Event Information & Resources