Peepers will draw children in and keep them captivated during your storytelling time, music time or even during transitional moments in the classroom.  The Peeper eyes fit snugly over the knuckle side of your index finger and turn your hand into an instant puppet.  Peepers come with an instruction book giving you fun ideas and hints on how to use the Peeper Puppet successfully.  They are also available in sets of 3 and 5 Peepers (assorted colors) with the instruction book.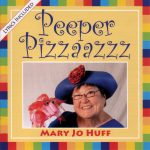 Combine the Peepers with Mary Jo's CD, Peeper Pizzaazzz
for a Discounted Price of $22.95!          A $2.00 Savings!