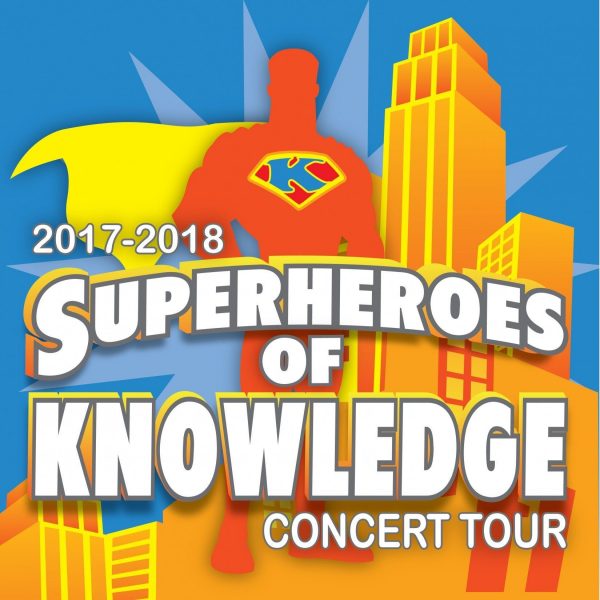 Superheroes of Knowledge Concert Tour – by Stephen Fite
Posted on
September 11, 2017
To borrow a well-known parlance from Paul Revere; "The Tour is Coming! The Tour is Coming!" Yep. I can almost see the white's of the children's eyes sitting out there in the audience.
After such an extended break it always takes me awhile to switch from summer "laid-back" mode to performance mode. However, much like last year's show, this particular theme has me on-edge to power up and start the tour. It's a repeat to be sure, but because I have presented this show once before I know how excited the kids are to be a part of defeating the evil villain, Dr. Vowel. That's right. What superhero story would be complete without a character that seeks to take over the world, or in this case; steal all of our letter sounds. (Insert sinister laugh here)
This year's Superheroes of Knowledge Concert Tour seeks to let every child know that Knowledge is the greatest power know to man. Throughout the hour-long show we will check off subject after subject on our Superhero-in-Training Report Card covering areas such as Literacy, Math, Science, Phys. Ed and more, all the while, gearing up for our epic defeat of Dr. Vowel through our use of KNOWLEDGE! (cue music fanfare here) Knowledge coupled with the super-secret musical weapon we will have at our disposal; a powerful little song called Supersonic Letter Sounds.
The show begins with a rockin' tune called Classroom Day that has the children up on their feet shouting "HEY HEY HEY" each time Stephen cues them. Next, we welcome all the students in to the Stephen Fite Crew. After that, it's time to begin the training that will enable us to foil Dr. Vowel's plan of letter sound dominance.
One of the favorite aspects of this particular show is the costumes the children and even teachers wear to the event. We always encourage everyone to dress according to the theme, but this particular show emptied the closets of Halloween costumes. Almost EVERYONE was showing up representing their favorite character. I still recall one student in Clinton, OK who was dressed as Thor. She was so proud of her costume because she had used an entire roll of foil to make Thor's Hammer. Of course, when the teachers are walking in to the theatre with their superhero tu-tus, you know it's going to be a fun concert.
If you would like to bring your League of Superheroes-in-Training to this field-trip concert but need more information, follow this link to the General Information page. You can also check out the Tour Calendar for dates, cities and times. Follow this link for Ticket Information. You can also call our office at 800-234-9228 to speak with a real, live human who will be happy to answer any of your questions and/or help you reserve your seats.
The tour begins this October 24th in Cordell, OK and does not end until May 3rd in Ft. Worth, TX with many stops in between. Reserve your seats soon so that you can join Stephen and become a Superhero of Knowledge! (cue fanfare music here)