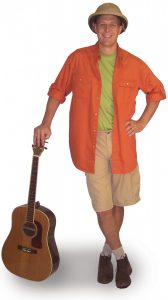 Your Tour Guide, Stephen Fite is ready to lead you and your group of little explorers on a fast-paced, memorable journey through the Jungle and Rain Forest. Along the way you'll learn some interesting facts, sing some rockin' songs and learn to boogie like the animals do when no one is around. We'll discover how the oxygen we breathe is produced. We'll find out what type of creatures inhabit the jungle floor. We'll learn that an animal's habitat is where it's at. By the way, you just never know who you're going to run in to along the way. Tigers, Snakes or even Monkeys teasing Mr. Alligator.
Stephen's Field Trip Concerts have become an annual event and are respected not only for their energy and music, but also for the educational concepts contained within the show. They have been described as an "interactive celebration of music and learning" and seek to make children active participants throughout the entire hour-long presentation. We hope that you will make plans now to join Stephen as he Welcomes You to the Jungle!
Register Your Group for the 2018-2019 Welcome to the Jungle Tour
Stephen's shows are filled with tons of energy and learning and you can register your group NOW! Simply call our offices at 800-234-9228, 8:30 to 4:30, Monday thru Friday with your school name, address and an estimated seat count. The Ticket Price is $6 per seat for groups of 5 or more and $7 per seat for groups of 4 or less. If the date for your chosen city does not work out simply cancel. We'll send you a Confirmation shortly afterwards.
"Thank you for another wonderful concert!!!!!  From 1 five yr old on the way back to school on the bus when asked if he had fun… 'Oh yeah!!  That was even way better than playing Minecraft all day!!'   We would like to reserve 55 seats for next year.  Thank you!!!"
Erin Warren – Teacher
Payment Form and Helpful Information for Teachers and Parents
Dress Like You're Ready to Explore the Jungle
Stephen will be dressed in his "jungle-wear" and you can make him feel more at home by doing the same. Khaki Pants/Shorts will do for starters. Hiking Boots will work too. Of course you'll need a Jungle Shirt with lots of pockets for odds and ends like maps, a compass, etc. A cool Jungle Hat will come in handy as well. Binoculars will help you look up in to the trees or even on to the stage. A canteen to quench your thirst because exploring the jungle makes you thirsty. If you'd rather dress up as a jungle animal that would be great too. We will definitely need some Monkeys, Tigers, Snakes, Gorillas, etc. If you can't dress up, just wear your Field Trip Shirts and plan on having a great time with Stephen and all the other Wild Things.
The Title Song from the Show is Yours FREE!
We are excited to give you Welcome to the Jungle, the title song from the show. It's a FREE mp3 complete with printable Lyrics and Activity Suggestions and all you have to do is DOWNLOAD it. The only thing Stephen asks is that you teach your children the song so when showtime arrives they are singing as loud as he is. It's gonna be WILD! Simply right-click the mp3 link and hit "Save As". You can also go directly to Stephen's Product Page where you can add it to your Shopping Cart, thereby keeping it in your Account for future download should you ever lose it. While you're there, look at the other mp3's he'll be using during the show.
Welcome to the Jungle FREE mp3
Printable Lyrics and Activity Suggestions
Follow Stephen via Social Media
You can follow Stephen on Facebook at stephenfiterocks, on Twitter at @stephen_fite and on Instagram at @stephen_fite.
You can also follow Melody House on Facebook at melodyhousemusic.
Printable Correlations/Standards for the Show
Have a question for Stephen?
If you have a question you would like to ask Stephen regarding his Concerts, Music, or even if you're just curious about what his favorite color might be, write him a quick message and he'll respond soon. Fill out the form below: